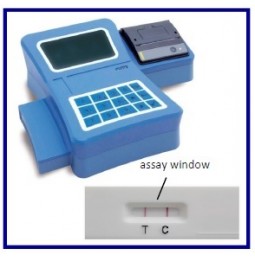 ALFA Reader Device
Clinic Allergy Diagnostics, ALFA Device, Allergy Diagnostic Tools
Lateral Flow Assay for the qualitative determination of allergen specific IgE in human serum, plasma or whole blood. A specific IgE allergy test with whole blood (Finger Prick!). Food allergy, drug allergy e.g antibiotics, and total IgE measurments

Specifications:
No needle! No need to look for veins! Its specially difficult in little children to take blood samples because its hard to find a vein. With ALFA all you need is a little prick of the finger. Very little pain and results guaranteed every time.

Flexible! The physician can select the allergens to test in any combination required! can test any number required from 1 to 8 or more. Simply fill in the wells with the blood sample and add in the allergen required for testing.

Fast! it takes no more than 30 minutes to get the results!

Easy! the procedure is so easy it can be done in the clinic by the physician!

Reader Device allows accurate and computer generated report results.

Advanced technology insures high specificity and sensitivity compared to immunoblot and chemistrip technologies. Almost as accurate as ImmunoCAP assay technology which is the gold standard in comparison to skin prick test method.
quantity
Brand

Allergen type
Grass, weed pollen, tree pollen, house dust mites, molds, animal epithelia, Food allergens and latex
Units
Device