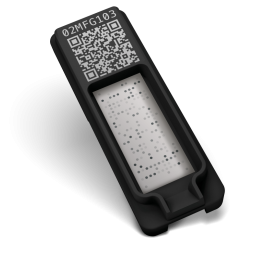 ALEX2 Allergy Cartlidge
Allergy IgE Diagnotics, Allergy Explorer ALEX
ALEX 2 is the first in vitro multiplex allergy test allowing simultaneous measurement of total IgE (tIgE) and specific IgE (sIgE) against a plethora of allergen extracts and molecular allergens. Based on test panels composition of allergen extracts and molecular allergens, a near complete picture of each patient's sensitization status is obtained.
ALEX 2 is based on proprietary nano-bead technology. Every allergen (extract) can be individually optimized for production. The flexible analysis software, allows our customers to analyze tailor made allergen panels as they see fit for their clinical needs – Multiplex on demand.
The ALEX 2 assay protocol integrates a powerful Cross-reactive Carbohydrate Determinants (CCDs) inhibitor during serum incubation, which will clear up your specific IgE results. This reduces the interpretative burden for physicians of CCD positive patients and increases the specificity of our test results.
Advantages
Simultaneous measurement of total and specific IgE
Near-complete allergen panel, individually optimized
Multiplex test with on-demand panel composition
Integrated CCD inhibition
ALEX 2 is the next generation in vitro test for type I allergies. With an allergen panel of more than 295 allergen extracts and molecular allergens complemented by total IgE, we aim at above 99 % coverage of all routine diagnostic needs. The quantification is based on a colorimetric image acquisition, using CMOS sensors and instrumentation.
ALEX 2 is a state-of-the-art multiplex ELISA test based on proven immunoassay chemistry and detection methods.
* To be used with either the manual ImageExplorer or the fully automated MAX45K Devices.(Different item number applies)

quantity
Brand